Spring is the perfect season for exploring Peloponnese. During the last week of March, we visited Kotronas, a seaside village at eastern Mani. It was a wonderful experience. Wild flowers, clear blue sky, warm weather.
Kotronas is build near the ancient city of Teuthroni. The ancient city has been immersed into the sea after a great earthquake in 3d century BC. Ruins and findings of Teuthroni have been reported by divers and fishermen in the area around Skopa islet.
We used Kotronas as our base for exploring Mani. There are picturesque villages with maniot towers, οld chapels, monasteries, ancient remnants. The natural environment combines rugged mountains and the sea. This is heaven for outdoor photographers!
We decided to first visit the monastery of Sotiros, build on top of the mountain over Kotronas. It offers an impressive view of the entire Laconian Bay and eastern Mani. The monastery, build around 1500 AD is abandoned.
We visited the monastery after sunset. There was nobody around, it was very quiet. The iron door leading to the main stair opened with a creepy squeak.
The openings on the wall offered a splendid view of Kotronas Bay. The wind was blowing through them and created mind alerting sound effects. The wind was also moving that heavy wooden door, which was hitting on the wall, adding a mystery touch in the soundscape of the space.
I was thrilled with this place and proposed Calliope to setup our tent for the night inside the yard. She firmly denied!
We were lucky to find a nice and clean room with a beautiful sea view at Kotronas Bay Bungalows. The breakfast prepared by Mrs Maria Panagakou, the owner, was marvelous. I still remember her homemade marmalades with citrus fruits from her garden, her homemade bread, her delicious cakes and the fresh eggs from her own coop. Later on we found out that she is a distinguished chef. Highly recommended!
http://www.kotronasbay.gr/
Next day we walked around Kotronas. There are many interesting traditional buildings. A few of them incorporate architectural pieces of the ancient city in their walls.
Skopa islet was one of the citadels of Teuthroni. Here was the sanctuary of goddess Artemis.
Near Skopa islet, there is a beautiful shingle beach,  Halikia-Vata. There's a small coffee shop on the beach where we relaxed and enjoyed our greek coffee.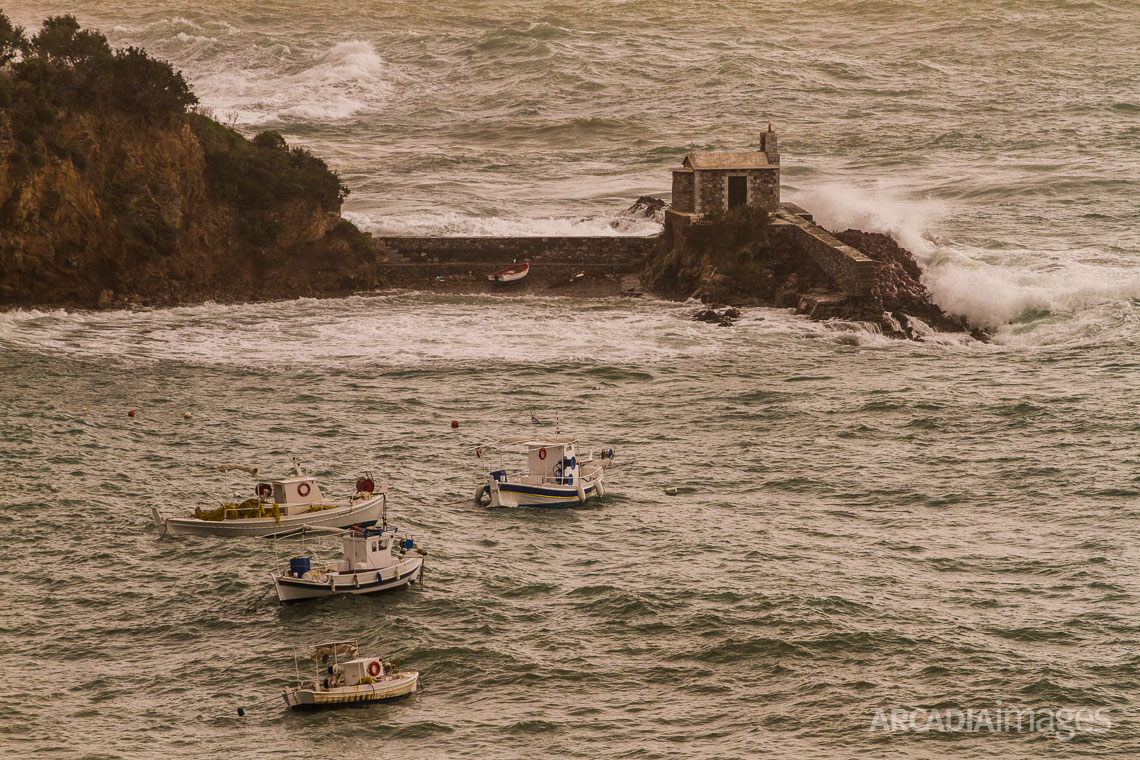 The weather changed the last day with strong wind and high sea waves.
Spring in Peloponnese is a photo-paradise!