The Frankish princess welcomed the sun rising over the Argolic gulf every morning. Her castle, built on top of the hill, offered a panoramic view of the area. She could see as far as the shores of Argolis and the island of Spetses. She could feel the chilly air coming from the fir wood of mount Parnon on the south. The cedar forest on the west, send her a breeze after sunset.
She could hear the roar of the Lepida waterfalls, in the deep gorge over a cliff at the east side of her castle. The Vrassiatis river crossing the plain under the hill, sculpted the rocks, shaping ponds and all kinds of waterfalls.
She would often follow the rugged path on the east side of the castle that leads to the bottom of the cliff. Covered under the shadow of the plane trees and the huge rocks around the river, she would take her bath, like a nymph, in the turquoise, cold waters.
Blinded by her beauty, a man decided to betray her and help the Turks take over the castle. She had bravely stood up against the Turks, who had repeatedly attacked the castle, for twelve years.
The Turk commander offered him money, a fine horse and two silver swords. He only wanted the dark eyed princess for his prize.
Disguised as a monk, he knocked the castle's main gate asking for food. The princess felt sorry for him and send him food. He kept asking them to open the gate, pretending he needed to pray at the church. The princess offered to throw him a rope or a basket over the walls to get him inside. He said that hunger made him dizzy and could not climb up. At last he managed to persuade the princess to open the door ajar.
The Turks invaded and took over the castle. The beautiful maiden in despair had no other choice but to join the waterfall nymphs… She jumped off the cliff.
She can still be seen bathing at the river ponds, some quiet noons filled only with the sound of the rushing water.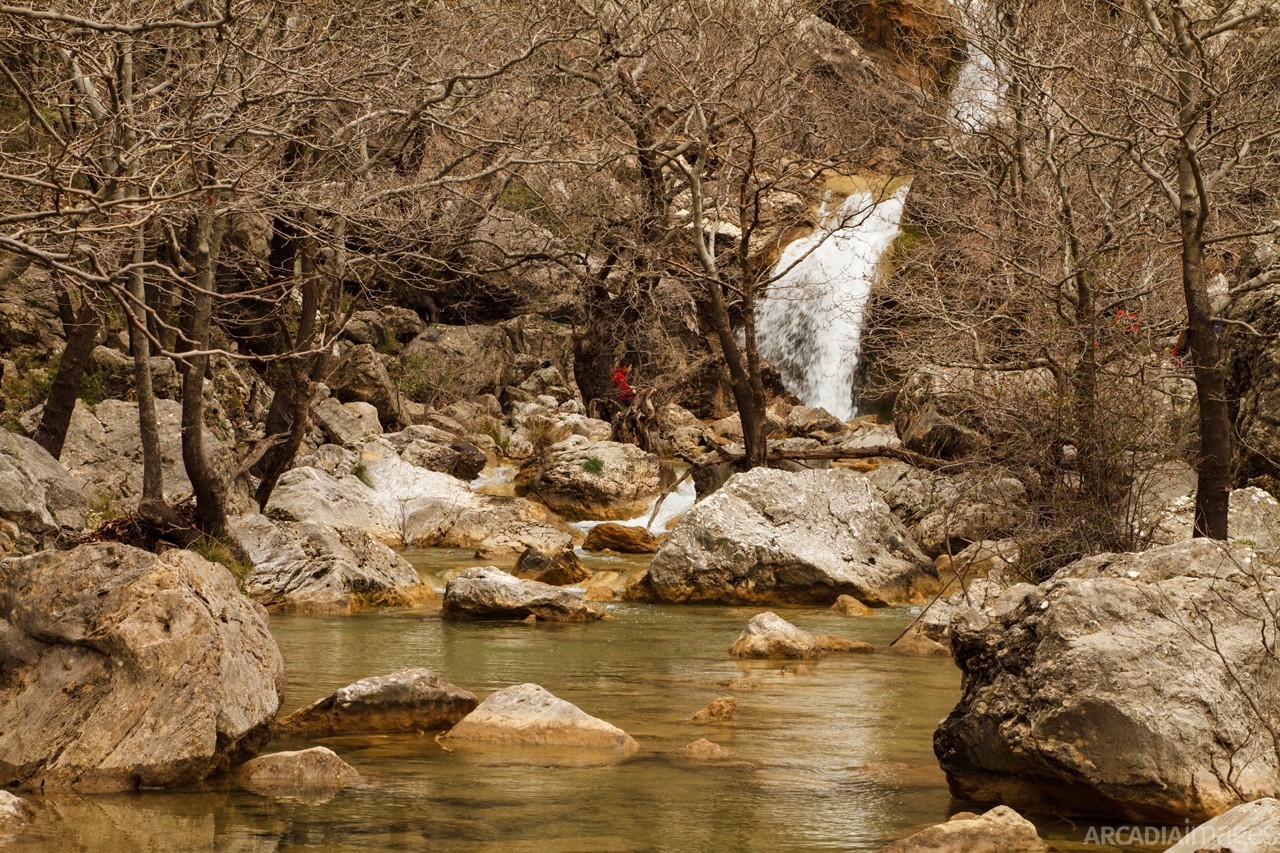 The Orea's (or Oria's) Castle (Castle of the Beautiful Maiden) is a name given to several medieval fortresses. Her story became a song. The castle was built over Xirocambi plain near Lepida waterfalls by Guillaume II de Villehardouin (1246-1278).
We joined the local mountaineering club, ΣΑΟΟ, to a hike to Oria's Castle and to Lepida waterfalls. We had a great time and the scenery is fantastic. There's not much left from the castle. Where's the glory of the princess and her noble family?
Vrassiatis river and the waterfalls are still there and tell us the true meaning of the story: The vanity of high castles and pursuit of power.